Boarding Cattery Mazlíček
Pod Vlachovkou 9, Praha 8, Czech republic
+420 603 981 869
---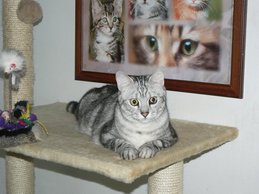 Welcome to our boarding cattery
We are pleased to welcome you to our hotel for cats Mazlíček ("Little Darling") web site. We are offering a supreme accomodation for your cats including full qualified care, for the times of your holidays or travel back home when you can't take your little darling with you.
We have many years experience with the accomodation of your little darlings, providing them maximal possible care, our hotel is operating since 2002 as the first professional boarding cattery in Prague. We treat each of our little customers with love and patience, allowing her/him to spend relaxed the time you can't be with him.
Important information
Dear clients, in 2022 the hotel will be open only during the high season, it means:
→ During Easter (from April 2nd - April 22nd 2022)
→ During the summer holidays (from apx. June 26th – September 4th 2022)
→ During Christmas (from apx. December 11th 2021 – January 11th 2023)
ATENTION: There are no free slots in the rest of the current summer season...
---
Why our hotel?
Because we are a respected facility licenced by the veterinary authorities with long tradition and family atmosphere. We are not doing business, we take care of your pets.
We are offering high standards, our little customers have each her/his own spacious suite, own access to food, water and toilets. In order to avoid laziness we are letting them go and play in the hotel rooms daily (if agreed by You).
First hotel for cats in Prague
Family atmosphere
Nice clean rooms
Spacious suites
Daily go & play
We speak english :-)
---
First of all, try to book your place early enough. Especially in the summer season, spring break or Christmas it's necessary to book several months before!
Book your place early!
By phone
By e-mail
---
What do you need?
Besides of booking and your litle darling please don't forgett valid vaccinations certificate. Before arriving make sure that your cat is absolutely healthy, it's in everyones interest that sick cats can't be checked-in.
Valid vaccinations
Healthy cat
Booking
---
---